Ford F-150 Lightning Named MotorTrend Truck of the Year
Ford F-150 Lightning Earns Truck of the Year Honors
The Ford F-150 Lightning is a full-size pickup truck that has been making waves in the automotive industry since its release in 2023. It is the first all-electric pickup truck from Ford, and it has been named the MotorTrend Truck of the Year for 2023.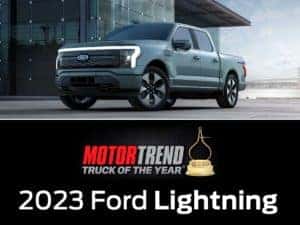 One of the standout features of the F-150 Lightning is its all-electric powertrain, which delivers instant torque and impressive acceleration. It has two electric motors that produce a combined 426 horsepower and 775 lb-ft of torque, allowing the truck to go from 0 to 60 mph in just 4.5 seconds. The electric powertrain also provides a smooth and quiet ride, which is a refreshing change from the typical diesel-powered pickup truck.
Another impressive aspect of the F-150 Lightning is its range. It has a range of up to 300 miles on a single charge, which is more than enough for most daily driving needs. And when it's time to recharge, the truck can be charged at home using a 240-volt outlet, or at a public charging station. It can also be equipped with a Ford Connected Charger, which can provide up to 19 miles of range per hour of charging.
The F-150 Lightning also has a spacious and well-appointed interior, with plenty of room for passengers and cargo. It has comfortable seats, a user-friendly infotainment system, and a variety of standard and available features, including a panoramic sunroof, a 360-degree camera system, and adaptive cruise control.
In addition to its impressive performance and range, the F-150 Lightning has been designed to be tough and capable. It has a high-strength steel frame, a reinforced aluminum body, and a unique suspension system that provides a smooth ride and confident handling. It also has a maximum towing capacity of 10,000 pounds, making it a versatile and capable workhorse.
Overall, the Ford F-150 Lightning is an impressive vehicle that has earned its spot as the MotorTrend Truck of the Year for 2023. Its all-electric powertrain, impressive range, and capable performance make it a standout choice for anyone in the market for a full-size pickup truck.